Those Who Dream Advent Poems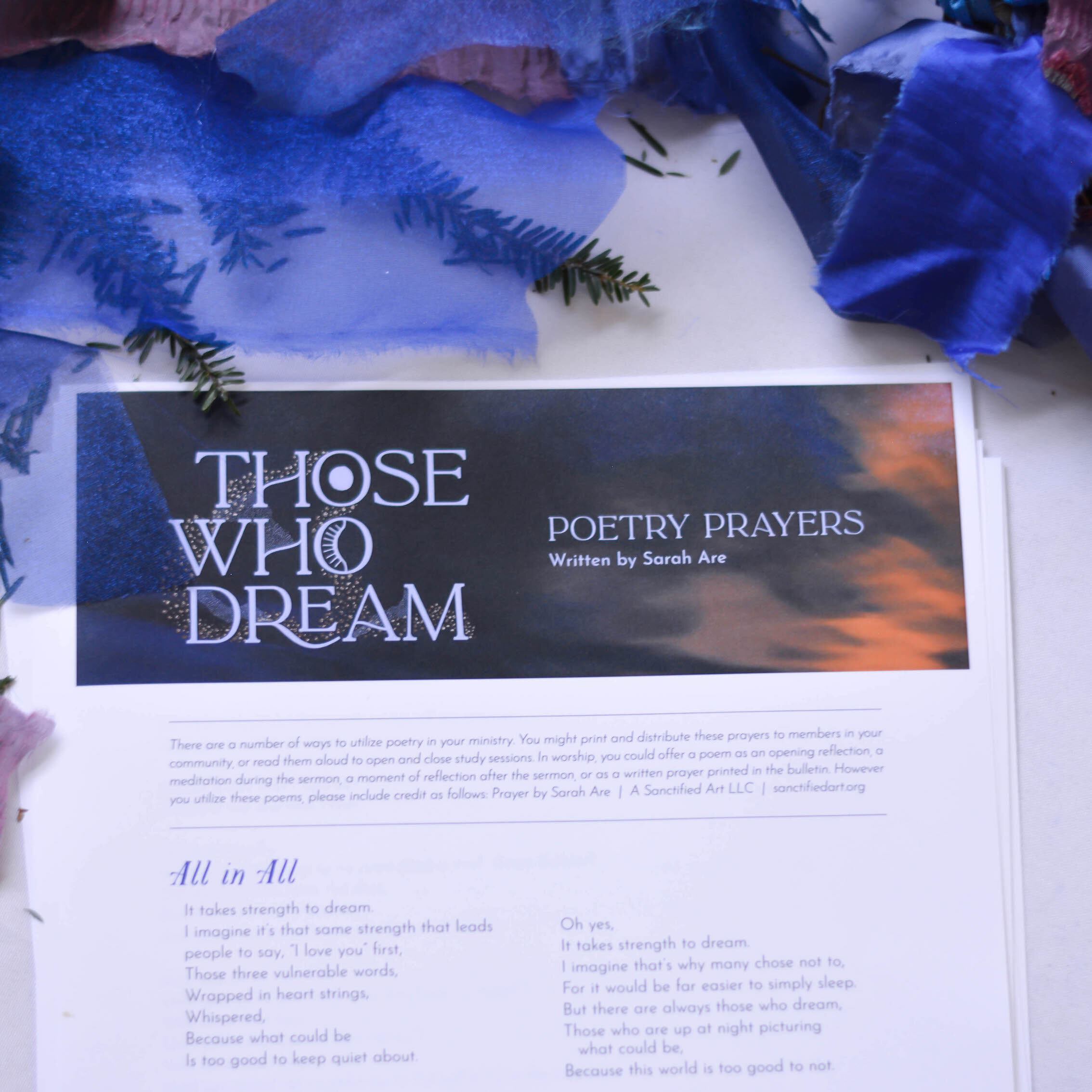 Those Who Dream Advent Poems
[This resource is one of many included in our Those Who Dream Advent Bundle for Year B]
DIGITAL DOWNLOAD FOR ONE-TIME LICENSE
This collection of 10 poetic prayers explores the Those Who Dream weekly sub-themes in light of the RCL (Year B) scriptures for Advent–Epiphany. Honest and intimate, these poems offer meditations that might become prayers of your own. We hope you might adapt them for worship liturgy, use them to open and close programming events, or print them as they are for members in your community to read and return to throughout the Advent season. Prayers written by Sarah Are.
DOWNLOAD INCLUDES:
10 pg PDF print-ready file of the prayers (for you to print and distribute to members, or copy/paste for worship liturgy).
PDF includes 10 poetic prayers with the following themes and titles:

All in All | Those Who Dream

Dream, Don't Sleep | Mark 13:24-37 & 2 Peter 3:8-15

Prepare | Mark 1:1-8

Sow Joy | Luke 1:46-55

Mary | Luke 1:46-55

Joy Like Water | Luke 1:26-45

Not Alone | Luke 1:26-45

To Carry A Dream | Luke 2:1-20

Swell | Luke 2:22-40

I Imagine | Matthew 2:1-12
USES:
Print the prayers and distribute them to members in your community

Adapt the prayers as your Call to Worship or opening prayer for worship

Use the prayers in a bible study group or Sunday school

Use the poetry as a meditation during the sermon

Use the poetry to inspire your own liturgy and sermon writing

Print the poetry in your bulletin (perhaps as the bulletin cover)
EXCERPT:
To carry a dream
Is to plant trees in old age,
To be a part of a church,
That is human and frayed.

To carry a dream is foolish and wild.
It's the faith of a child,
Wishing on stars.

But to carry a dream is also hopeful and wise
The faith of our elders,
Saying God will provide.

So may we walk
Until we see the light.
May the pebble in our shoe
Remind us why we fight.
May they say
We are foolish and unwise,
And may we continue to dream;
May hope keep us alive.
—Sarah Are, from "To Carry a Dream"
CREDIT INFO:
When printing and sharing online or in worship, please always include the following credits:
Prayers by Sarah Are | A Sanctified Art LLC | sanctifiedart.org
You Might Also Like