Our Money Story Practical Toolkit for Stewardship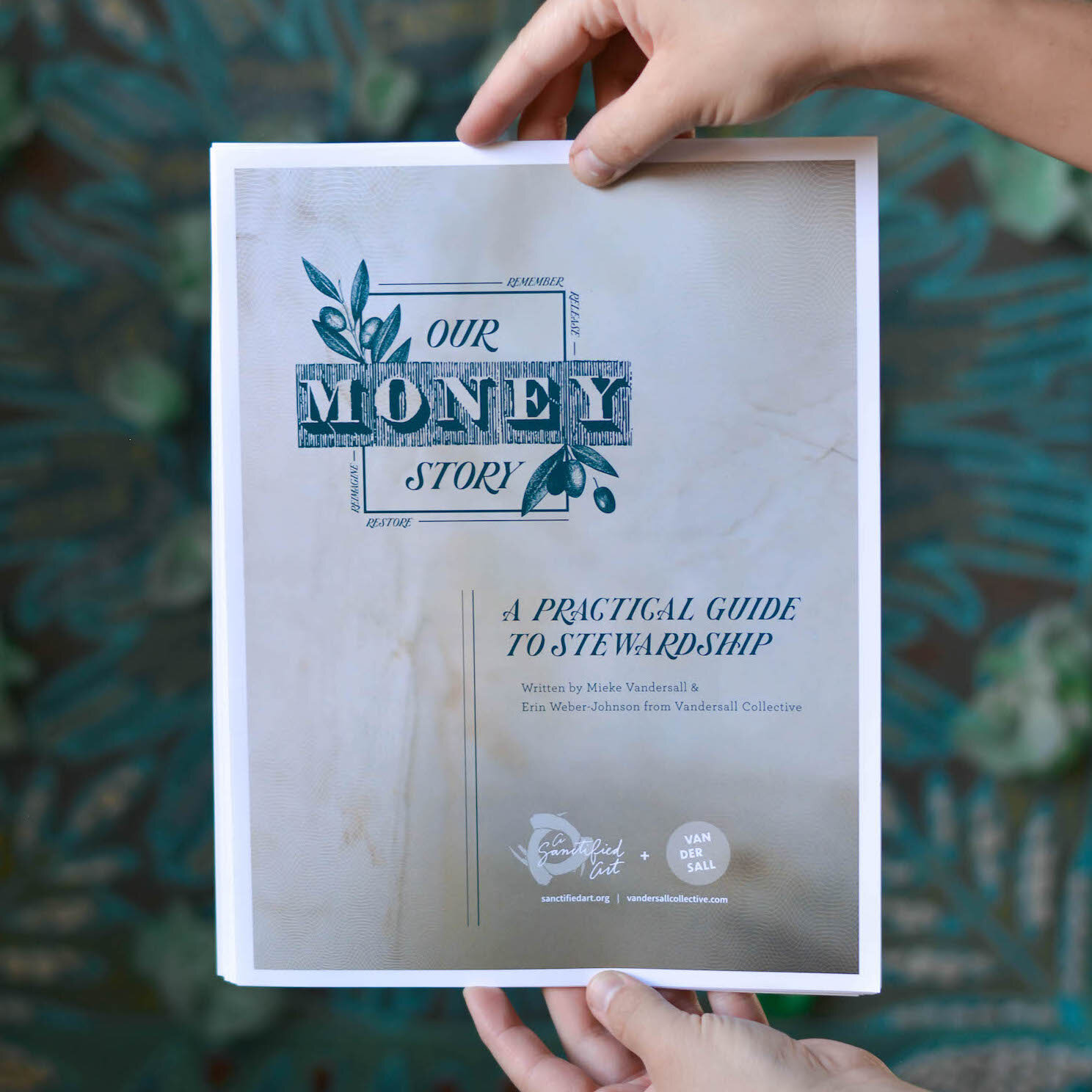 Our Money Story Practical Toolkit for Stewardship
[This resource is one of many included in the Our Money Story Stewardship Bundle]
DIGITAL DOWNLOAD FOR ONE-TIME LICENSE
Have you ever dreaded stewardship season—or seen it as simply a means to an end, or a way to pay your bills? Do you have a love/hate relationship with fundraising? Do you avoid discussing money at all costs—even though Jesus talked more about money and possessions than about prayer?
Whether you're a new pastor leading your first stewardship campaign or you're a seasoned faith leader looking for a fresh approach, this toolkit is designed to educate you and your team on best practices and invite you to dig deep into your money stories. This three-part toolkit provides educational and spiritual formation tools so that you can gain clarity around your mission, heal what holds you back, and live out God's money story more fully and faithfully.
To learn more about the Our Money Story stewardship series, download our free theme infographic.
About the toolkit:
This is a three-part resource specifically for clergy, stewardship committees, staff, and volunteers who lead the stewardship and fundraising efforts in your community. Part educational and part spiritual formation, this toolkit will help you discern and write your personal and communal money stories then take action to best live out your mission and values.
Here's how we suggest you implement these tools:
EDUCATION:
Print and distribute copies of the Practical Guide to Stewardship to members of your staff and leadership to learn and discuss best practices for faith-based fundraising.

SPIRITUAL FORMATION:
With a small group of your leadership (perhaps your stewardship committee or campaign team), use our preparation materials (the Your Money Story Workbook and the Your Community's Money Story Curriculum Guide) as spiritual formation prior to getting started with your campaign.
Download includes:
A Practical Guide to Stewardship (a 17-pg PDF). This is a comprehensive guide written by fundraising experts, Mieke Vandersall and Erin Weber-Johnson from Vandersall Collective, with the following topical sections:

PREPARATION
TIPS TO KEEP IN MIND
ONGOING WORK & THINGS TO CONSIDER
CREATING YOUR BUDGET
HOW TO APPROACH GIVING FOR DIFFERENT GENERATIONS
HOW TO APPROACH GIVING FOR LOW-WEALTH POPULATIONS
STEWARDSHIP DURING A CRISIS OR AN ECONOMIC RECESSION
STEWARDSHIP PRACTICES TO AVOID
WHY HIRE A FUNDRAISING CONSULTANT?
AN INDEX OF EDUCATIONAL RESOURCES17-page PDF

Your Money Story Workbook (an 8-pg PDF) for printing on 11x17 sheets and folding in half to form an 8.5x11 booklet workbook for individuals to write their money stories in. Use this in Phase 1 of your spiritual formation.

Your Community's Money Story Curriculum Guide (an 11-pg PDF)for printing as single pages on 8.5x11 sheets. Use the curriculum guide with a small group to discern and write your community's money narrative—then take action based on the clarity you have gained. Use this in Phase 2 of your spiritual formation prior to beginning your stewardship or fundraising campaign.
Credit Info:
Practical Guide written by Mieke Vandersall and Erin Weber-Johnson from Vandersall Collective | Workbook and curriculum guide written by Lisle Gwynn Garrity | A Sanctified Art LLC | sanctifiedart.org
You Might Also Like