An Interactive Liturgy for the First Sunday After Christmas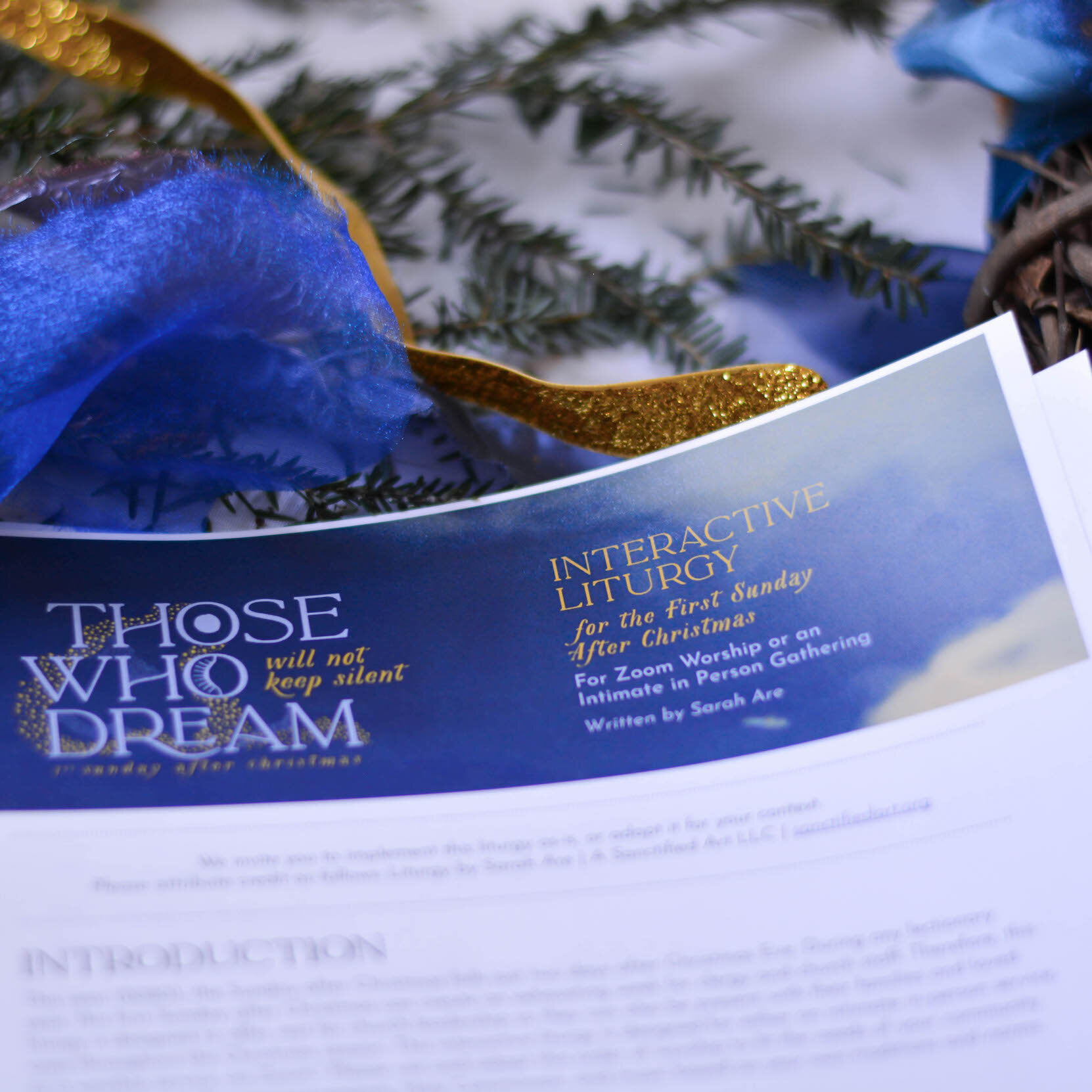 An Interactive Liturgy for the First Sunday After Christmas
[This resource is one of many included in our Those Who Dream Advent Bundle for Year B]
DIGITAL DOWNLOAD FOR ONE-TIME LICENSE
During any lectionary year, the first Sunday after Christmas can create an exhausting week for clergy and church staff. Therefore, this liturgy is designed to offer rest for church leadership so they can be present with their families and loved ones throughout the Christmas season, while also providing meaningful worship for your community.
Centered around the story of Simeon and Anna blessing young Jesus in the temple, this interactive liturgy is designed for either an intimate in-person service, or a worship service via Zoom. We've also provided an At-Home Liturgy version of the service that is especially great for young families with children to walk through together, screen-free.
Liturgy written by Sarah Are.
ABOUT THE INTERACTIVE SERVICE:
This interactive service, designed in the time of COVID-19, provides two liturgies: 1) a liturgy for either an intimate in-person gathering or worship via Zoom, and 2) an at-home liturgy for individuals or young families. Choose the liturgy that's best for you, or provide both options for your congregation, as some may prefer a screen-free at-home worship service. Both liturgies provide moments for interaction, reflection, and hands-on prayer.
SUPPLIES NEEDED FOR THE SERVICE:
An Advent wreath or candle with a lighter or matches.

A cell phone or computer to use briefly to send a message of peace to someone you love.

A Bible.

Post-It Notes, 3 for each person.

A pen or pencil for each person.

A copy of the poem, "Swell," by Sarah Are, printed or shared digitally with each worshiper. Encourage those worshiping from home to print the poem if they are able. A copy of the poem is included in this download.
DOWNLOAD INCLUDES:
8-pg PDF with the full worship script for an interactive worship service in-person or via Zoom.

6-pg PDF with the full script for at-home, screen-free worship (that you can easily distribute to congregation members).

A copy of the poem, "Swell" by Sarah Are (used for reflection in the service).
CREDIT INFO:
Liturgy and poetry written by Sarah Are | A Sanctified Art LLC | sanctifiedart.org
You Might Also Like