Palms of Passion Print (Palm Sunday)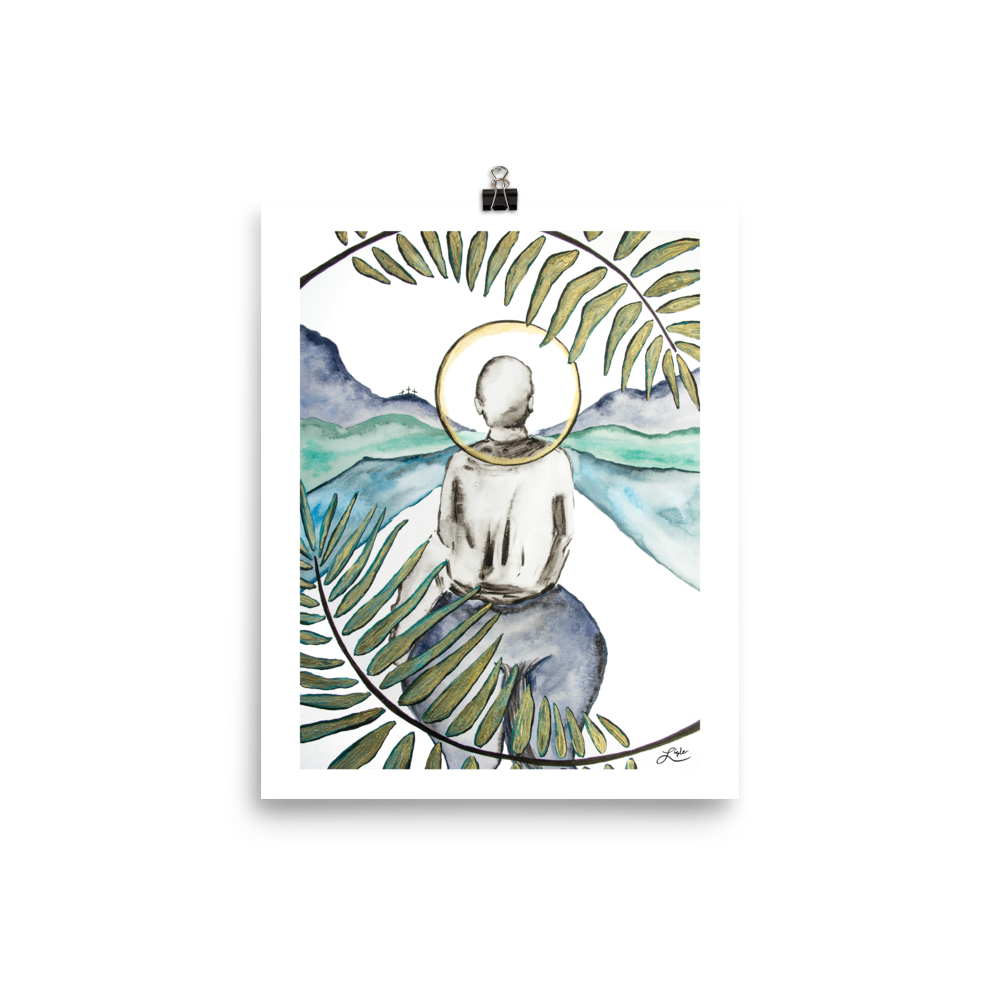 Palms of Passion Print (Palm Sunday)
Palms of Passion
Inspired by Mark 11: 1-11
By Lisle Gwynn Garrity
"I think it's easy to forget the visual cacophony of this familiar scene. We often celebrate this moment in the Jesus story with hallelujahs and children waving palms, but I imagine the original palm procession into Jerusalem was filled with a bit of horror and confusion too. Jesus, the so-called leader of the Jews, enters the holy city on a poor man's mount instead of being lifted like royalty on the backs of servants. For the first time in his ministry, he allows the crowds to celebrate him, but how many stood back in dismay? He sits on the back of the colt as a servant anti-king, disappearing into the horizon that will soon bring him to calvary hill.
In this image, I wanted us to get lost in the blur of palm fronds as a reminder of how disorienting this act truly is. Gold palms curl around a monotone Jesus as he rides onward while the crosses on calvary hill loom in the distance. Jesus is depicted as colorless in a widening landscape of color to foreshadow the way life will soon drain from his flesh into the world. The sky above and the path below remain blank, open to be filled by how heaven and earth will be affected by the events to come. On this day, we celebrate Jesus as king and anti-king, leader and servant, holy and human, riding into the land that will lead him to death."
—Lisle Gwynn Garrity
Museum-quality poster made on thick, durable, matte paper. Unframed artwork will arrive rolled up in a protective tube.
Framing option available.
Print Details:
Museum-quality posters made on thick, durable, matte paper.
Paper is archival and acid-free.
Unframed prints arrive rolled up in a protective tube.
Frame Details:
Alder, Semi-hardwood frame
Black in color
.75" thick
Acrylite front protector
Lightweight
Hanging hardware included
Made in the USA
You Might Also Like