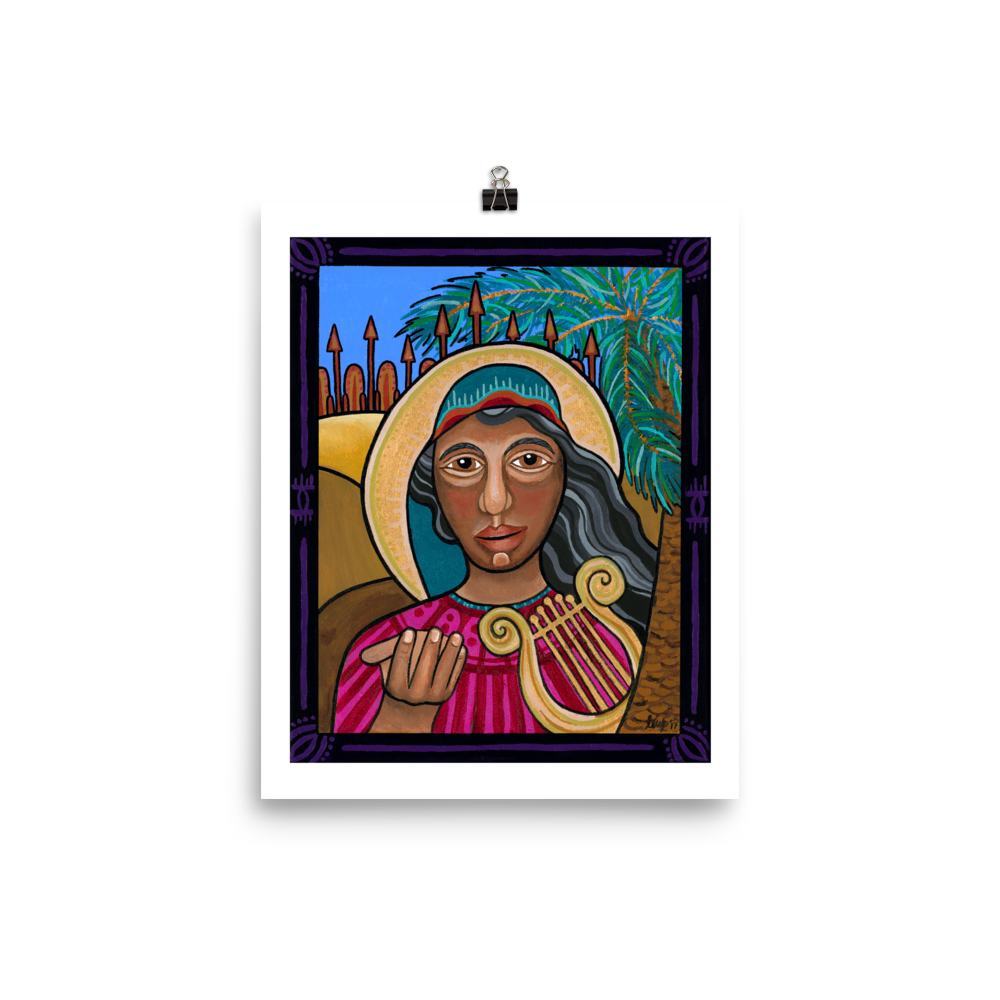 In Tune Print (Deborah)
In Tune
By Lauren Wright Pittman
Inspired by Judges 4-5

Museum-quality poster made on thick, durable, matte paper. Unframed artwork will arrive rolled up in a protective tube.
Framing option available.
Print Details:
Museum-quality posters made on thick, durable, matte paper.
Paper is archival and acid-free.
Unframed prints arrive rolled up in a protective tube.
Frame Details:
Alder, Semi-hardwood frame
Black in color
.75" thick
Acrylite front protector
Lightweight
Hanging hardware included
Made in the USA
From the artist:
In the midst of the oppression of her people, Deborah creates space for channeling God's wisdom. In the chaos of war she finds stillness under a palm tree and tunes herself to God's voice.
When I'm in far less stressful situations than direct oppression and imminent war, I struggle to remember to turn to God for council or comfort. In response to anxiety, instead of fostering an environment to receive God's direction, I often turn inward and try to carry the burden of the world on my own. I also have a hard time trusting my intuition. When I feel a tugging on my heart, I often ignore it, devaluing my thoughts, insights, and emotions, and because of this, I fear I miss God's movement altogether.
The wisdom of Deborah lies in her willingness to create space. Deborah shows us that, in stillness, practicing attending to God with fierce trust, we can sift through the chaos of this world and align ourselves with the movement of God.
Create spaces for yourself where you can get in tune with God. Trust your intuition, share your insights with others, and use your voice. When you feel God tugging on your heart and calling you to move, try practicing fierce trust and leaving your comfort zone.
In this image, Deborah stands firm under her palm tree with her hand open, signifying her openness to God's wisdom and to sharing her voice with others. The chariots of war loom in the distance, but the chariots are empty because, in the midst of impending war, this prophetess can see God's victory before it even takes place.
—Lauren Wright Pittman
You Might Also Like